Oh how I've missed my Cali. I don't even remember how many years its been since I last visited. I think it gets more beautiful every time I go though! There's breathtaking views everywhere you look. The weather, scenery, and overall vibes are just so amazing.
This was my second time to San Francisco, although I'm not sure I can count the first since I was only 2 years old haha. This trip was four days of jam packed sightseeing and family time and it couldn't have been better! Let me tell you about all the fun places we explored…
Sutro Baths
Ready for your mini history lesson?! The Sutro Baths was a privately owned public saltwater swimming pool complex, once the largest swimming establishment in the world. It was built in 1896 by Adolph Sutro who was a wealthy San Francisco resident and former mayor. The Sutro Baths closed in 1966 because maintenance became too expensive. The building burned down in June of the same year. The city is now left with the ruins of the baths on possibly the most beautiful view of the coast. You can climb and explore the ruins at your pleasure or just sit enjoy the amazing view.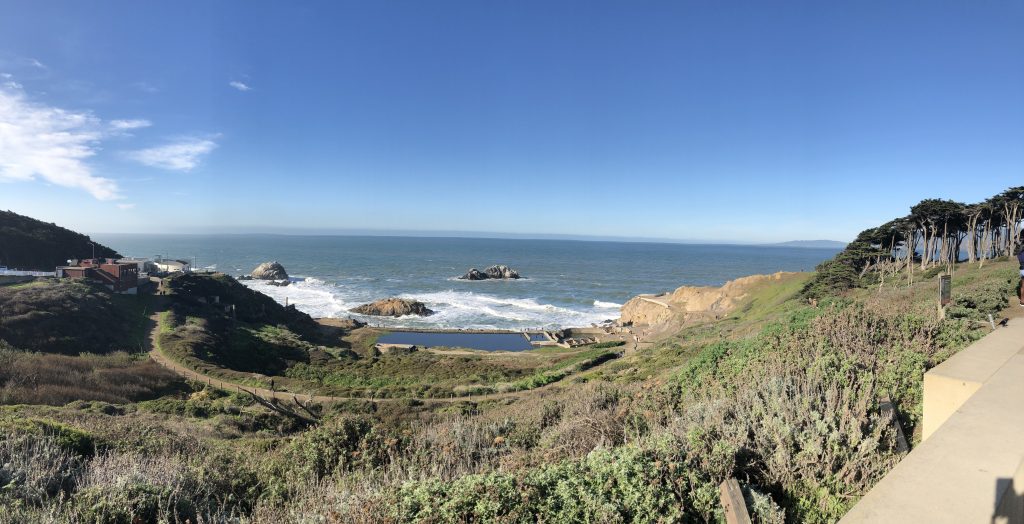 Botanical Garden
Theres not a better way to spend a nice sunny afternoon then by taking a stroll through the botanical garden. The city has done such a great job of maintaining it and all plant enthusiasts would be impressed with the different sections. The garden is very calm and relaxing and the best place to just take a second and appreciate the nature around. It is located in the beautiful Golden Gate park and also has water features and special look out spots to make the experience even better.
Conservatory of Flowers
The Conservatory of Flowers is a big white structure with beautiful architecture. It was also featured in Jennifer Lopez's movie, The Wedding Planner. This place was very cool to walk through especially with all the different rooms with categories such as carnivorous plants, aquatic plants, highland tropics, and more. You can find my favorite flower below!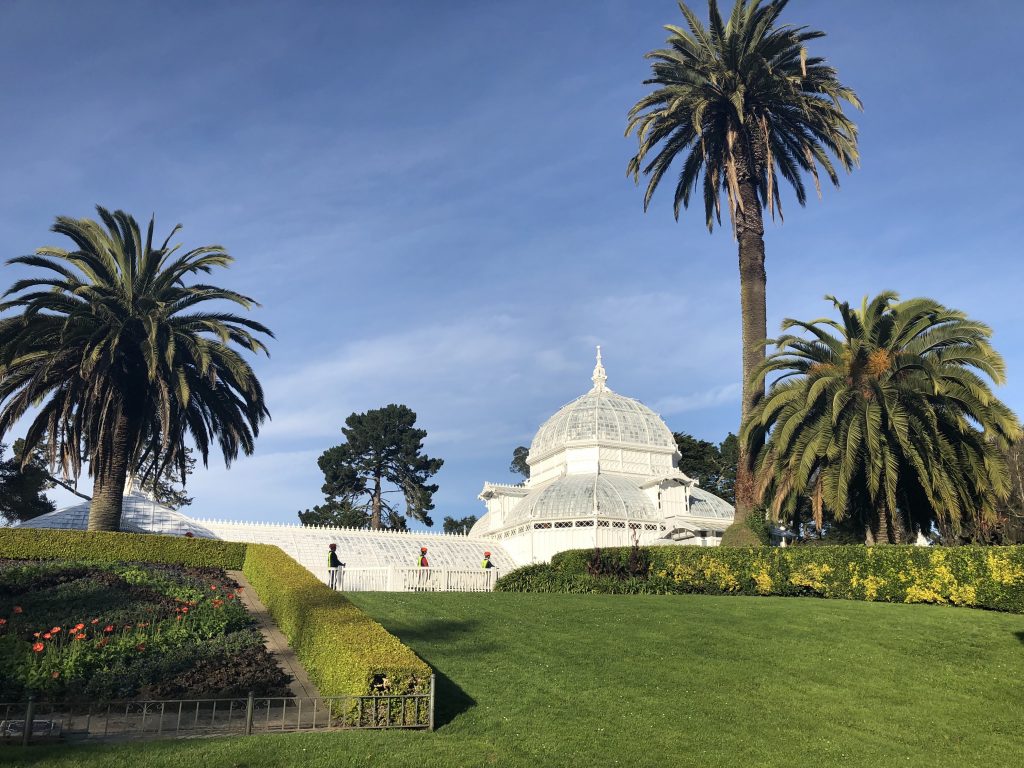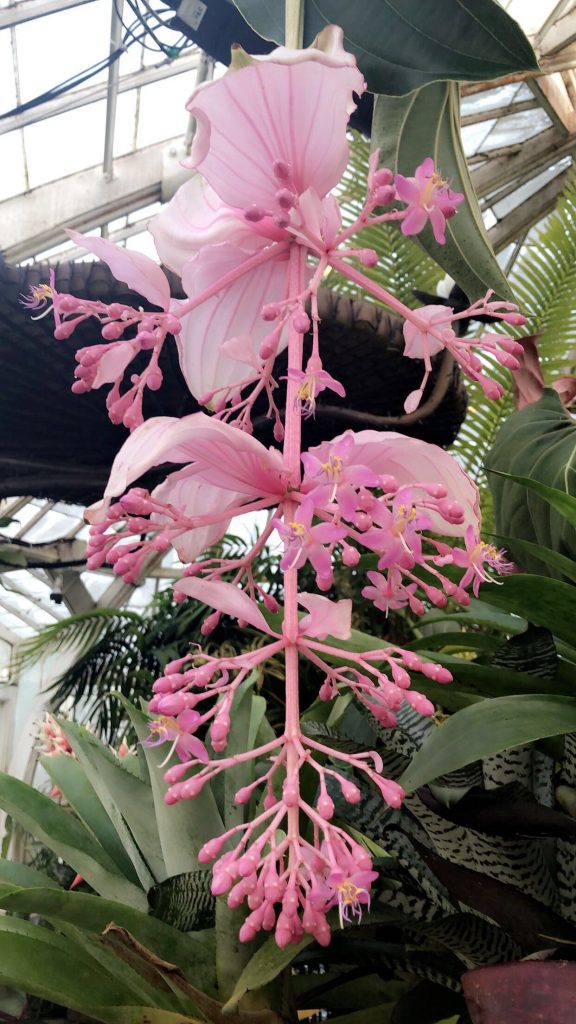 De Young Museum
First off, the little plaza area in-front of the museum is really beautiful. It's filled with really cool looking trees, a pretty fountain, and statues throughout. The catch: we didn't actually go through the museum. Buttttttt!!! We did take the elevator to the top where there is an AMAZING look out point with a 360 degree view of the city. It was neat to be able to see all areas at once. This was definitely a highlight and the best part was that it is free!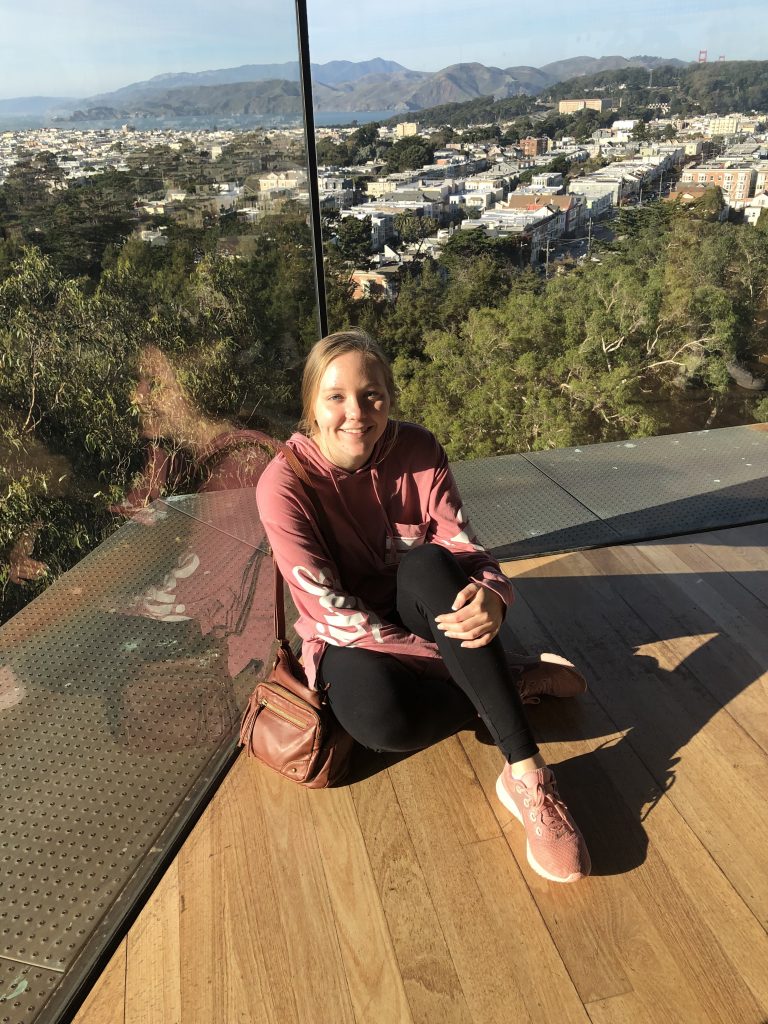 Pier 39 and Fishermans Wharf
Pier 39, one of the homes of the San Francisco sea lions. Who knew a big, fat, finned, mammal could be so cute?! They made me miss my dog Milo back at home. Pier 39 is also home to lots of tourist shops and other attractions. When we were there we took a ferry from Pier 41 to spend the afternoon in Sausalito, which brings me to the next adventure…
Sausalito
Sausalito is a very cute little city that is very walkable. We stopped for lunch at a place called Taste of Rome that satisfied our hunger perfectly. Then to top it off we had some of the most delicious ice cream ever at Lappert's. I got the flavor "Santas Cookies" which was peppermint cookies and cream with fudge (all of my favs!!). The whole day was a very enjoyable experience!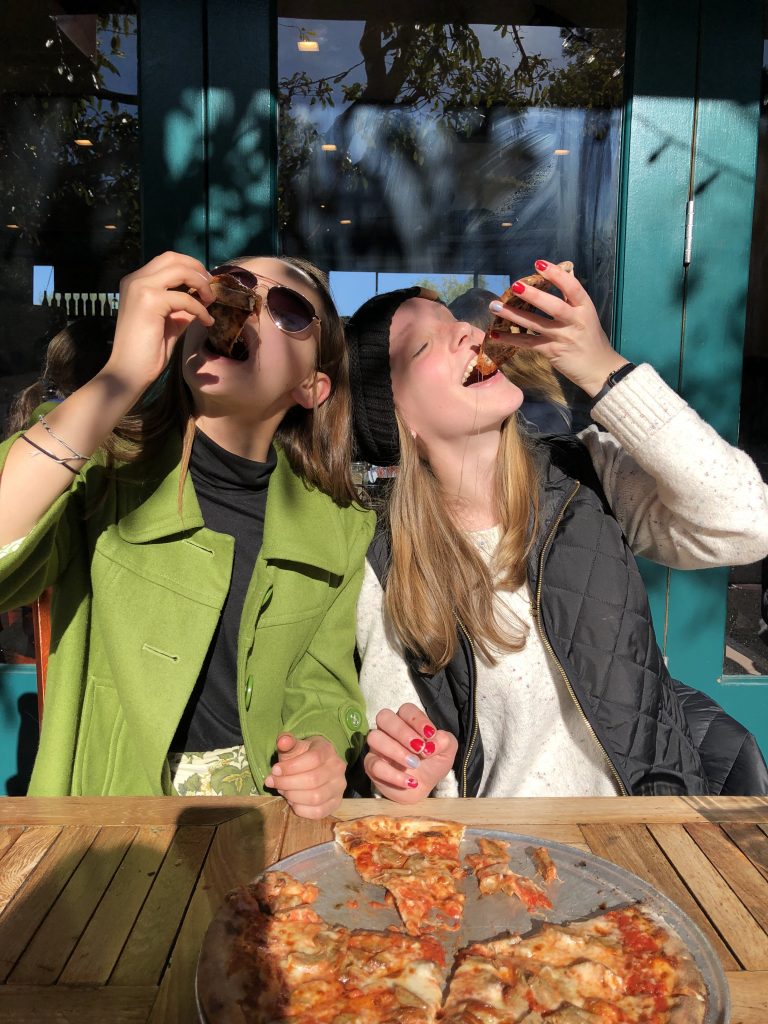 Curvy Lombard Street
One of the most famous streets in San Francisco! Curvy Lombard has 8 hair pin turns in one block. Over 2 million tourists visit each year. I didn't actually get to drive down it because the line was wayyyyy too long but it was cool just to watch! There is also the option to walk the stairs on the side if you want a really good workout! Also, don't think you can go fast cause the speed limit is only 5mph. This attraction is a fun and funky addition to the city.
16th Avenue Tiled Steps
This is probably a very high contender for one of my favorite things I saw and it wasn't even in the plans so I'm glad we decided to stop when we were in the area. The 16th avenue tiled steps project was a neighborhood collaboration to create a sea to stars themed mosaic flowing up a 163 step stairway. The steps are located in the Golden Gate Heights Neighborhood. The project was started in 2003 in an effort to connect the neighbors in a community project to beautify the neighborhood. Families had the opportunity to donate money and have a name of a loved one incorporated into the mosaic. My favorite part though was the view from the top of the stairs. You could see the entire rectangle of Golden Gate Park and the ocean in the distance. The beautiful weather made the experience priceless.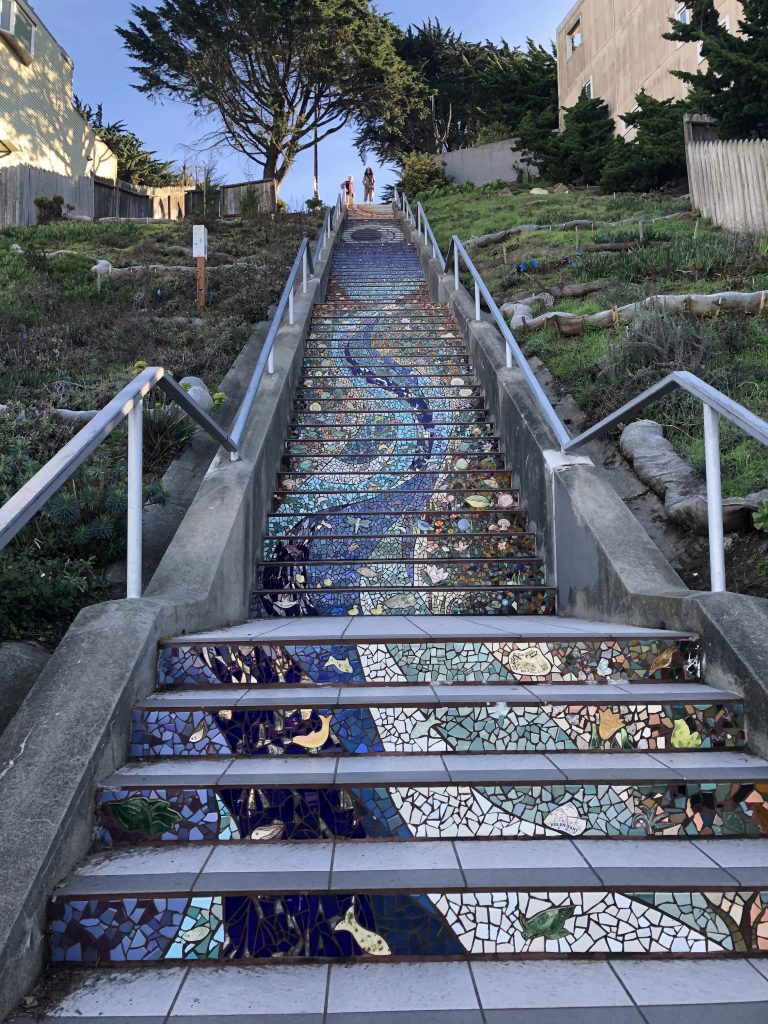 Union Square
Otherwise known as the center of downtown San Francisco. Since I went during the holidays, there was ice skating and a huge tree that set the Christmas scene. I got to go in some really fancy stores and I always love how the big cities make the stores look so cool. The architecture is always a little different than normal stores. On one of the streets there was a big crowd enjoying lots of food trucks and pop up shops. The downtown was a nice change from the other parts of the city.
Museum of Ice Cream
This was the grand finale of our vacation, a present from my aunt and uncle. Let me just tell you…
Museum of Ice Cream opened its doors in the summer of 2016, led by our Founder and Creative Director, Maryellis Bunn, and a dedicated team of creators, designers, and producers who believed in her vision for an experiential installation inspired by ice cream. Influenced by Maryellis's childhood dream of jumping into a pool full of sprinkles, Museum of Ice Cream was born under the premise that ice cream is a universal symbol of joy, a personal pleasure, and a transportive vehicle for anyone's imagination. Since day one, MOIC has led with intention, fun, and inclusivity; a shared and felt optimism at its core.
This place was SO much fun and the perfect place for instagram pictures. And can I just talk about getting to jump into a pool of sprinkles?!? That was the best! A fun tradition they have is for everyone to come up with their own ice cream nickname, so you can call me Oreo Dream now haha. It was a great family experience to end such a wonderful trip with family.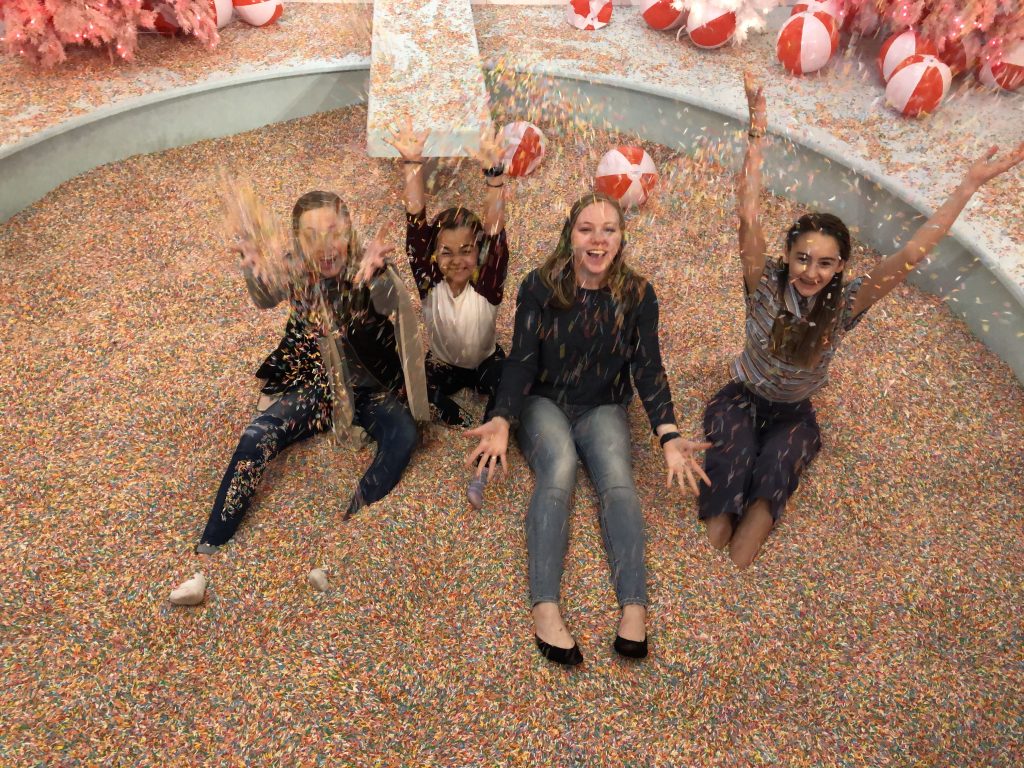 I can't believe we were able to fit all of this in plus the Painted Ladies, Palace of the Fine Arts, Height Street and more. I really did have the best tour guides ever!!!
To see other pictures of the trip check out my Instagram and VSCO!